Description
1. SPG piston seal applications and properties
SPG double acting piston seal consist of a PTFE bronze slide ring and a rubber energizer.
Advantages:
It is usd for reciprocated hydraulic systemand allow large extrusion gap
SPG seal has wide application,high static and dynamic sealing effect;
SPG piston seal can be able to work in dusty condition,low friction
2.Standard materials
Slide Ring:bronze filled PTFE,carbon fiber filled PTFE,graphite filled PTFE
O-Ring:NBR/FKM. other material is available.
3.Size
Bore dia from 30 mm to 1650mm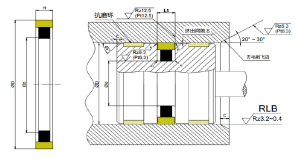 | | | | | |
| --- | --- | --- | --- | --- |
| Order No. | D | d | H | L1 |
| SPG-30 | 30 | 20.5 | 4.3 | 4.5 |
| SPG-31.5 | 31.5 | 22 | 4.3 | 4.5 |
| SPG-32 | 32 | 22.5 | 4.3 | 4.5 |
| SPG-35 | 35 | 25.5 | 4.3 | 4.5 |
| SPG-35.5 | 35.5 | 26 | 4.3 | 4.5 |
| SPG-40 | 40 | 30 | 4.3 | 4.5 |
| SPG-45 | 45 | 35 | 4.3 | 4.5 |
| SPG-50 | 50 | 40 | 4.3 | 4.5 |
| SPG-55 | 55 | 45 | 4.3 | 4.5 |
| SPG-56 | 56 | 46 | 4.3 | 4.5 |
| SPG-60 | 60 | 50 | 4.3 | 4.5 |
| SPG-63 | 63 | 48 | 7.3 | 7.5 |
| SPG-65 | 65 | 50 | 7.3 | 7.5 |
| SPG-69 | 69 | 54 | 7.3 | 7.5 |
| SPG-70 | 70 | 55 | 7.3 | 7.5 |
| SPG-71 | 71 | 56 | 7.3 | 7.5 |
| SPG-75 | 75 | 60 | 7.3 | 7.5 |
| SPG-80 | 80 | 65 | 7.3 | 7.5 |
| SPG-85 | 85 | 70 | 7.3 | 7.5 |
| SPG-90 | 90 | 75 | 7.3 | 7.5 |
| SPG-95 | 95 | 80 | 7.3 | 7.5 |
| SPG-100 | 100 | 85 | 7.3 | 7.5 |
| SPG-105 | 105 | 90 | 7.3 | 7.5 |
| SPG-108 | 108 | 92 | 7.3 | 7.5 |
| SPG-110 | 110 | 94 | 7.3 | 7.5 |
| SPG-112 | 112 | 96 | 7.3 | 7.5 |
| SPG-120 | 120 | 104 | 7.3 | 7.5 |
| SPG-125 | 125 | 109 | 7.3 | 7.5 |
| SPG-130 | 130 | 114 | 7.3 | 7.5 |
| SPG-135 | 135 | 119 | 7.3 | 7.5 |
| SPG-140 | 140 | 124 | 7.3 | 7.5 |
| SPG-145 | 145 | 129 | 7.3 | 7.5 |
| SPG-150 | 150 | 134 | 7.3 | 7.5 |
| SPG-155 | 155 | 139 | 7.3 | 7.5 |
| SPG-160 | 160 | 144 | 7.3 | 7.5 |
| SPG-170 | 170 | 148 | 10.8 | 11 |
| SPG-180 | 180 | 158 | 10.8 | 11 |
| SPG-190 | 190 | 168 | 10.8 | 11 |
| SPG-200 | 200 | 178 | 10.8 | 11 |
| SPG-210 | 210 | 188 | 10.8 | 11 |
| SPG-215 | 215 | 193 | 10.8 | 11 |
| SPG-220 | 220 | 198 | 10.8 | 11 |
| SPG-230 | 230 | 208 | 10.8 | 11 |
| SPG-240 | 240 | 218 | 10.8 | 11 |
| SPG-250 | 250 | 228 | 10.8 | 11 |
| SPG-260 | 260 | 236 | 11.7 | 12 |
| SPG-270 | 270 | 246 | 11.7 | 12 |
| SPG-280 | 280 | 256 | 11.7 | 12 |
| SPG-290 | 290 | 266 | 11.7 | 12 |
| SPG-300 | 300 | 276 | 11.7 | 12 |
| SPG-310 | 310 | 286 | 11.7 | 12 |
| SPG-320 | 320 | 296 | 11.7 | 12 |
| SPG-330 | 330 | 308 | 9.75 | 10 |
| SPG-360 | 360 | 336 | 11.7 | 12 |
| SPG-400 | 400 | 376 | 11.7 | 12 |
| SPG-485 | 485 | 455 | 14.8 | 15 |
| SPG-500 | 500 | 470 | 14.8 | 15 |
| SPG-550 | 550 | 515 | 17.2 | 17.5 |
| SPG-600 | 600 | 570 | 14.8 | 15 |
| SPG-650 | 650 | 620 | 14.8 | 15 |
| SPG-720 | 720 | 690 | 14.8 | 15 |
| SPG-800 | 800 | 785 | 12.7 | 13 |
| SPG-900 | 900 | 870 | 24.5 | 25 |
| SPG-930 | 930 | 890 | 19 | 20 |
| SPG-950 | 950 | 925 | 17.7 | 18 |
| SPG-1000 | 1000 | 960 | 19.7 | 20 |
| SPG-1060 | 1060 | 1020 | 19.7 | 20 |
| SPG-1120 | 1120 | 1080 | 19.7 | 20 |
| SPG-1150 | 1150 | 1110 | 19.7 | 20 |
| SPG-1180 | 1180 | 1130 | 19.7 | 20 |
| SPG-1210 | 1210 | 1170 | 19 | 20 |
| SPG-1250 | 1250 | 1210 | 19.7 | 20 |
| SPG-1260 | 1260 | 1220 | 19.7 | 20 |
| SPG-1400 | 1400 | 1350 | 19.7 | 20 |
| SPG-1500 | 1500 | 1460 | 19.7 | 20 |
| SPG-1650 | 1650 | 1600 | 24 | 25 |
Other similiar piston sesal profiles:SPGC,SPGO,SPGW