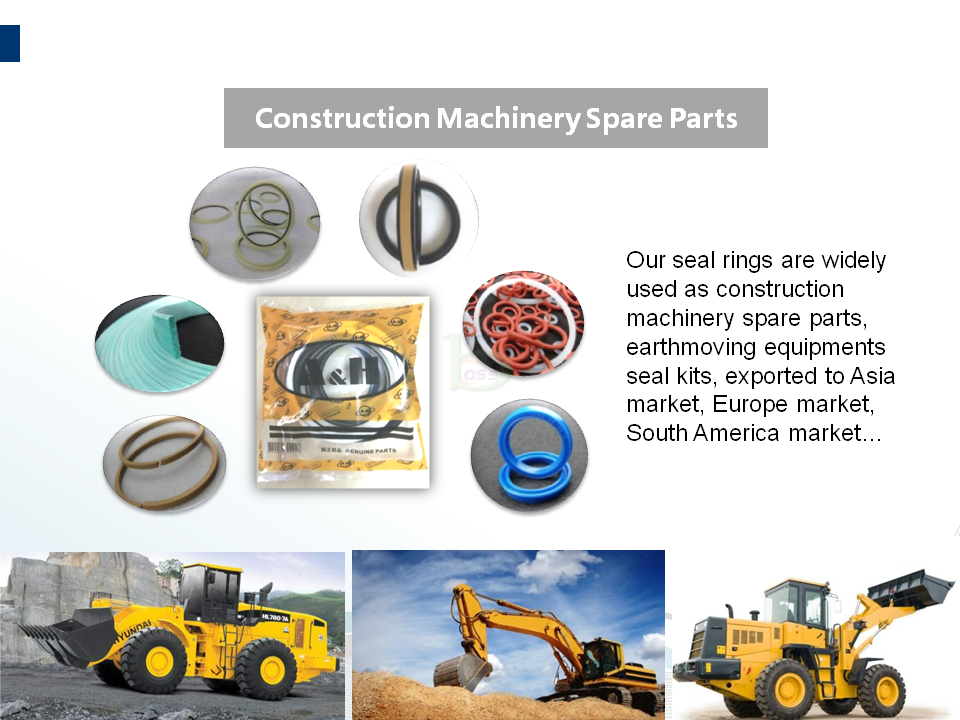 Construction machinery seal kits spare parts
We supply a variety of seal kits and spare parts for excavators,earthmoving machines,including rod seals,buffer seals,piston seals,wear rings,o rings.
It is wise to choose our seals as your repair seal kit accessory.Good quality at competitive price.
Rod Seal– Rod seals are typically uni-directional seals. They are static on the outer diameter and dynamic on the inner diameter.
These seals are installed into female glands on the bore and are used to seal fluid on a reciprocating rod. Rod seals can be loaded with energizers for low pressure sealing.
Buffer Seal– A buffer seal is a compact rod seal with a thick dynamic lip that is placed in front of a standard rod seal. The buffer seal shields the primary rod seal from pressure spikes,dramatically increasing seal efficiency.
Buffer seals are designed to allow trapped fluid pressure between the buffer seal and primary rod seal to bleed back into the system.
Wipers– A wiper is designed to exclude contamination like dust or water from entering the system. Contamination causes 75% of hydraulic failures.
Piston Seal– A piston seal may provide uni-directional (single acting),or bi-directional (double-acting) sealing. It is static on the inner diameter and dynamic on the outer diameter. These seals are installed on pistons that reciprocate along a bore of a cylinder.
Wear Ring– A wear ring prevents metal to metal contact caused by side loading in reciprocating applications; wear rings can be located inside the rod gland and/or on the piston.
The detailed seal type is as below:
AW/TCN/TCV/N4W/ROI/OK/KR/BRT/TF/DKB
/DKBI/DLI/OUY/OHM/SPGO/SPGW/WR/OK
/HBY/SPG/SPNO/SPN/KZT/
J wiper/back up ring/o-ring/x-ring and so on.
These seal kits are widely used in construction equipment,Excavators,Agricultural Equipments,Aerial Man Lifts,Material Handling / Fork Lifts,Earth Moving Wheel Loaders / Bulldozers / Backhoes,Skid Steers,Mining Truck Struts / Shocks,Accumulators, Mobile and Industrial.